Infallible precision and unprecedented ease of use
Hospitals and laboratories trust in the accuracy and reliability of Wireless Value Pharma & Lab. Our wireless sensors prove their value day in and day out in sectors where faultless measurements are crucial. What makes our wireless measurement solution unique?
Reliable
First of all, Wireless Value Pharma & Lab is reliable. This is a basic requirement for hospitals and clinical or chemical laboratories. You need to be able trust that your measurement system is always working and that processes and certain values are monitored continuously. Our wireless sensors give you full control over what you want to monitor. Among other things, our software meets the requirements of CFR 21 chapter 11, so the measurements are always reliable and traceable.
Energy efficient
Our wireless sensors combine faultless measurement with energy efficiency. With their energy-efficient design, our sensors can take readings for as long as five years on one battery. All the while, they have little or no drift. That means you can rest assured that our sensors do what they're supposed to do: measure reliably.
User friendly
Wireless Value Pharmaceutical & Lab is very easy to use. The sensors are wireless so you don't need to worry about cables or connection points. You can place them wherever you want, including in coolers and freezers. They are true plug & play: they connect to the base station and immediately deliver the readings that are important to you.
Smart notifications
With our online dashboard, you can set up smart notifications that help you work more efficiently. Do you want to be notified when the temperature in a refrigeration unit exceeds a certain value? You can. You can also set it up so a specific employee receives a notification on their phone so they can take immediate action. With the logbook function, you can also always look back to see what actions were taken.
Reliable
Precise and reliable measurement data
Available
Measured data always within reach
Involved
Always a tailor-made solution
Measurement and 24/7 monitoring
Wireless Value ensures that all equipment in a laboratory is monitored accurately and continuously. This is not only limited to temperature control in coolers and freezers. Cryogenic cooling (to -180°C) and powder coating ovens (to +800°C) can also be monitored in real-time, 24/7.
We also offer sensor systems for monitoring positive and negative pressure, for example, in PCR rooms, relative humidity, CO2 (to 6.5%) and the position of chiller and freezer doors. For transporting medical samples, our temperature sensors are used to monitor that the requirements are met in real time, from the moment of collection to the lab station.
Meeting requirements
Depending on internal and external requirements, the sensors are calibrated periodically in accordance with ISO 17025. Our software also complies with FDA CFR21 CH11, which guarantees the reliability and traceability of all measurements. For further compliance, WebSensys has a comprehensive logging function that allows configuration changes to be traced accurately.
Temperature mapping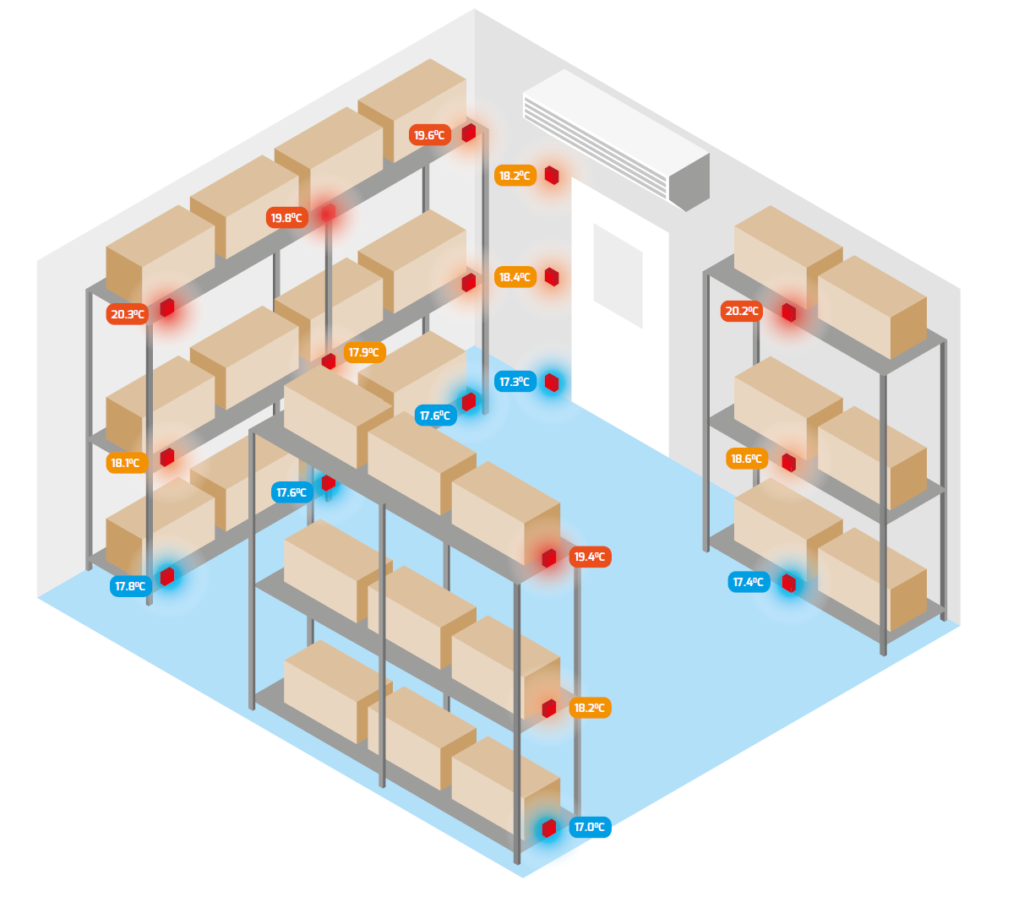 Our wireless sensor system is also particularly well suited for temperature mapping thanks to its ease of use and reliability. This makes it easy to determine the actual temperature in a storage space. If you have a GDP or GMP permit, this is even mandatory!
Proven in practice
About Wireless Value
At Wireless Value, we can tell you all about the added value of wireless measurement, but we're especially proud of the results of our work. Year in, year out, our wireless sensors prove their worth: they contribute to cost savings, sustainability and optimisation in very diverse markets. Markets such as the energy sector, fruit and vegetable growing, heavy industries, property management, laboratories and hospitals all benefit from our systems. Curious about the results? View our cases.
Contact
If you'd like to know more about accurate and flexible monitoring in your sector, please don't hesitate to contact us and we'll be happy to make an appointment for a consultation.